Benefits
BTC as Margin Nominal Currency
Trading Terminals for Windows, Web and iOS/Android
Trading Robots/Expert Advisors Allowed
Crypto Deposits and Withdrawals
Dedicated Customer Care Team 24/7
Leverage and Trading on Margin
When it comes to margin trading on Bithoven.com, one should take into consideration two important concepts – "leverage" and "margin." Leverage is the increased buying power that is available to margin account holders. Leverage is expressed as a ratio (for instance, 1:3 or 1:20).
Here, for every 1 BTC deposited to a margin trading account, a crypto trader is able to enter into trades worth 3 BTC or 20 BTC, respectively. Leverage may be applied to both buy (long) and short (sell) positions. Margin, on the other hand, is the relative amount needed to carry out a leveraged deal. Margin is usually expressed as a percentage of the full amount with regard to the position opened.*
*Trading on margin carries high risk. Always consider carefully your objectives, trading experience and risk level before trading on margin.
Deposit
Trading Power
2 BTC
0.1 BTC
*Leverage 1:20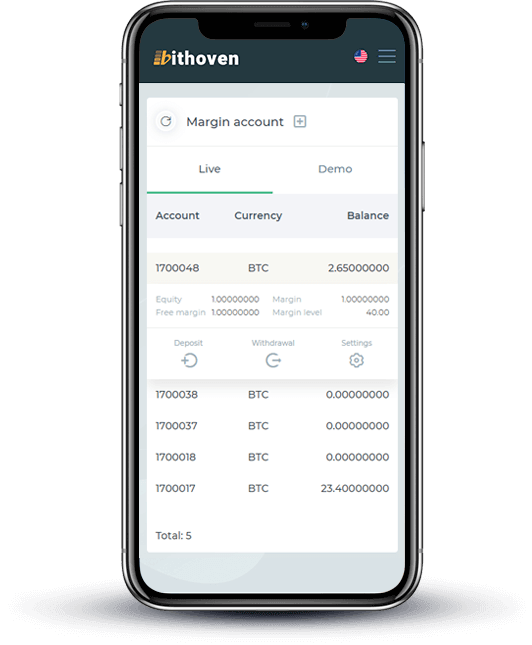 User-Friendly and Multifunctional Interface
Bithoven.com lets crypto traders use the most advanced and progressive tools for margin trading. Users get instant access to professional trading platform Meta Trader 5, which comes with a multitude of additional timeframes, services and advantages.
Feel free to practice your trading skills on Demo conditions for as long as you need before going Live. Now margin trading is truly easy, accessible and convenient, where it is possible to hone your trading skills, strategies, understand the market movements and systematically make reasonable and right decisions.